Sleeping Arrangement
Description

About The Cabin Name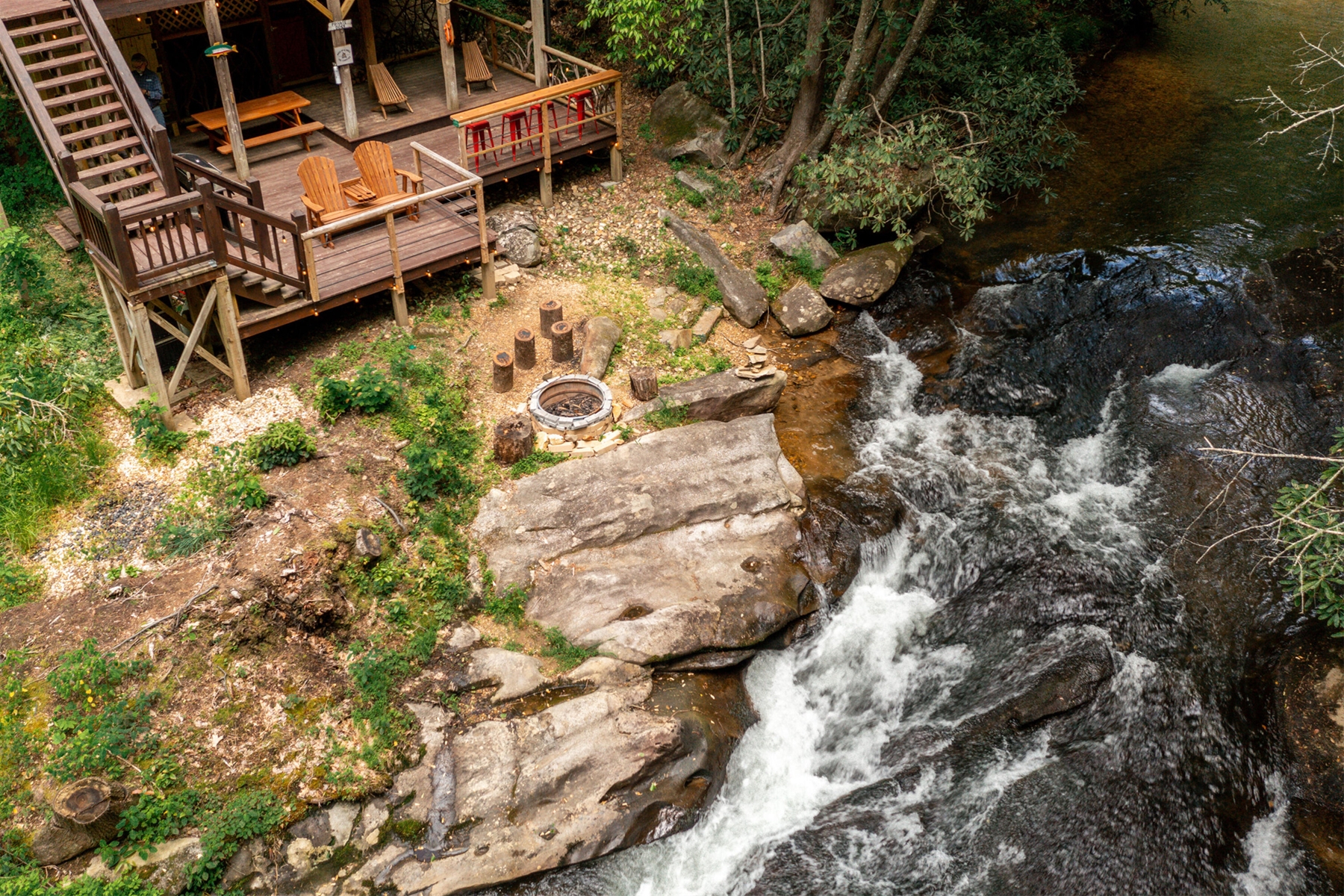 You'll arrive to a distant thunderous roar of rushing waters. And the closer you get to the step-down porch entrance, the sound intensifies, carrying with it a charged energy that vibrates deep within. Once settled with a favorite beverage, you can unwind on the Creekside patio or screened porch. Inhale the crisp mountain air and let the tranquil sounds of whirling waters wash over you. Occasional faint barks of wildlife may punctuate your symphony of serenity. No matter what you do here, watching and hearing this surging creek is how you will start, end or spend the day. It will lull you to sleep at night and completely rejuvenate when you wake. Heavenly Waters is not an exaggeration, but a romantic, restorative retreat and healing experience that feels like a bit of paradise, concealed amidst the mountains of Blue Ridge.
Access
Step-Down Entry.
This cabin is firmly anchored into cliffside bedrock. Unlike most cabins where you would climb stairs to reach the main entrance, you step down a few stairs.
Main Level
Creekside Comfort.
Feel the cozy romantic vibe when entering this cute cabin. Wide hardwood oak floors chase heart pine, wall to ceiling paneling.
Kitchen & Dining.
The dining area is next to tall windows bringing warm natural lighting. And the fully stocked kitchen should satisfy any host-going enthusiast.
Lazy Lounging.
Sink into plush seating up to 5, warmed by a mountain stone, gas log fireplace. Watch nearly100 cable channels covering local, national, sports and more on the large flatscreen TV. Or, access your own Prime Video, Netflix, Apple TV, or your other favorite subscription-based entertainment.
Screened Porch Deck.
Step out onto the screened-in deck with a natural soundtrack of the resounding cascading torrents below. If you can work remotely, coming here will fill you with more productive energy while sneaking in a regenerative mountain vacation. Whether sunny, rainy, or snowy days, scenes through the screen will always set a positively charged mood.
Main Level Queen Suite
This tight, comfy queen suite has a bed that will knock you out in no time. The room has another Smart flat-screen TV, and ensuite full bathroom with stand up shower..
Creekside Sleeping Porch
Someone will wrangle over who gets to sleep in this glassed-in porch overlooking the roaring, rushing creek. Drift off into a deep sleep in a twin bed serenaded by the sounds of whirling waters. This room also has a work desk nestled against the glass windows of roaring rapids scenery.


Loft King Suite
Wake to tall wood paneled A-frame ceilings and natural lighting. This romantic king suite invites both saucy and slumber after an eventful day in the mountains.
Ensuite Bathroom.
The full bath has a stand up shower.
Party Patio
Step down to the lighted outdoor party patio and let the memories begin.
Gas Grill.
Your grill master can fire up the cooking on a sizable grill with supplied propane while taking in views of surging rapids.
Eating Options.
Relax in the two Adirondack chairs, or eat at the four stools counter facing thunderous crystal currents..There is also a convenient picnic bench seating 4-5.


Open Fiery Nights
When night falls make marshmallow memories at the Creekside fire pit. Enjoy trippy times and lots of laughs amid nature's nocturnal soundtrack of wildlife and healing waters. On clear nights, don't forget to look up. The cosmic, diamond-studded sky you never see in the city that poets have called "the watchful eyes of angels," will humble you.
A Medium to Memories
A journey to the mountains is made for memories that stay with you forever.
Heavenly Waters just helps you get there during your stay.
Amenities
A rustically romantic Creekside cabin nestled at rushing water's edge, Heavenly Waters is just 8 miles from Mercier Orchards, and 11 miles from historic downtown Blue Ridge and a scenic train ride touring picturesque landscapes. From there, you're onto wineries, crystal clear lakes,hiking, zip-lining, and other water adventures like kayaking, tubing, fishing, and more.
Highlights
Romantic, Mesmerising Creekside Cabin
Stunning Riverstone Gas Log Fireplaces (Living Room)
Peaceful and Private
Lighted Outdoor Patio and Fire Pit Next to Cascading Crystal Currents
Sleeping Porch w/Twin Bed Overlooking Water's Edge
Fully Stocked Kitchen
Main Level Queen Suite
Loft Level King Suite w/Tall Wood Paneled A-frame Ceilings
Driveway Accommodates up to 2 Vehicles
Sleeps up to 5 People
FREE Wireless Internet (26.4 Mbps DWN | 5.31 Mbps UP)
Laundry Closet w/Washer & Dryer Units
Minimum 2-Night Stay Across Any Season

DOGS ALLOWED Up to 45lbs total.

NO SMOKING

(Inside)

Must be 25 years of age or older to rent this cabin; Driver's License pic required.
Cabin priced for up to 4 Adults. $20/nightly for each additional Adult
Video camera trained on entry way and stairs to patio
Trailers Prohibited
Creek Fishing Allowed
Main Level
Fully Stocked Kitchen Complete w/Microwave, Refrigerator, Electric Stove, Spacious Countertops, & Custom Cabinetry
Cuisinart Coffee Maker
Dining Table Seats 4
Spacious Seating for 5 w/ Large, Flatscreen TV
Mountain River Stone, Gas Log Fireplace
Queen Bedroom w/Ensuite Bathroom
Creekside Sleeping Porch
Glassed-In Sleeping Porch w/Twin Bed
Work Desk Overlooks Rushing Rapids Creek
Screened-In Deck Porch
Deck Faces Rushing Rapids Creek
2 Cushing Chairs w/Lamp Side Table
Fairy Lights Set Night Mood
Barrell-Style Table Top w/2 Stools
Loft Level
Open King Suite w/A-Frame Vaulted Ceilings
Full Ensuite Bathroom w/Standup Shower
Outdoor Party Patio
Lighted Patio Slab Accomodates Dancing Space
Gas Grill (supplied propane tank)
Four Stools Long Counter Facing Thunderous Crystal Currents
Picnic Bench Seating for 4-5
2 Adirondack chairs,
Fire Pit Next to Water's Edge
Sacred Native American Made Rock Sculpture
Cabin Reviews
This cabin is our latest addition to the Above The Rest luxury line. Consequently, because it is currently an undiscover gem on our program, there are no reviews at this time. We expect as more people discover Heavenly Waters and it's alluring splendor of amenities, reviews will begin pouring in.
Video
Map
Calendar
Jun - 2023
S
M
T
W
T
F
S

1

2

3

4

5

6

7

8

9

10

11

12

13

14

15

16

17

18

19

20

21

22

23

24

25

26

27

28

29

30
Jul - 2023
S
M
T
W
T
F
S

1

2

3

4

5

6

7

8

9

10

11

12

13

14

15

16

17

18

19

20

21

22

23

24

25

26

27

28

29

30

31
Aug - 2023
S
M
T
W
T
F
S

1

2

3

4

5

6

7

8

9

10

11

12

13

14

15

16

17

18

19

20

21

22

23

24

25

26

27

28

29

30

31
Sep - 2023
S
M
T
W
T
F
S

1

2

3

4

5

6

7

8

9

10

11

12

13

14

15

16

17

18

19

20

21

22

23

24

25

26

27

28

29

30
Oct - 2023
S
M
T
W
T
F
S

1

2

3

4

5

6

7

8

9

10

11

12

13

14

15

16

17

18

19

20

21

22

23

24

25

26

27

28

29

30

31
Nov - 2023
S
M
T
W
T
F
S

1

2

3

4

5

6

7

8

9

10

11

12

13

14

15

16

17

18

19

20

21

22

23

24

25

26

27

28

29

30
Dec - 2023
S
M
T
W
T
F
S

1

2

3

4

5

6

7

8

9

10

11

12

13

14

15

16

17

18

19

20

21

22

23

24

25

26

27

28

29

30

31
Jan - 2024
S
M
T
W
T
F
S

1

2

3

4

5

6

7

8

9

10

11

12

13

14

15

16

17

18

19

20

21

22

23

24

25

26

27

28

29

30

31
Feb - 2024
S
M
T
W
T
F
S

1

2

3

4

5

6

7

8

9

10

11

12

13

14

15

16

17

18

19

20

21

22

23

24

25

26

27

28

29
Mar - 2024
S
M
T
W
T
F
S

1

2

3

4

5

6

7

8

9

10

11

12

13

14

15

16

17

18

19

20

21

22

23

24

25

26

27

28

29

30

31
Apr - 2024
S
M
T
W
T
F
S

1

2

3

4

5

6

7

8

9

10

11

12

13

14

15

16

17

18

19

20

21

22

23

24

25

26

27

28

29

30
May - 2024
S
M
T
W
T
F
S

1

2

3

4

5

6

7

8

9

10

11

12

13

14

15

16

17

18

19

20

21

22

23

24

25

26

27

28

29

30

31
Reviews
Similar Properties
Starting at (USD)
$198.00 Starting at (USD)
$179.00