SEASONAL CALENDAR
PRIME | 5 Night min.
Christmas: Dec 20 - 27
Thanksgiving: Nov 22 - 29
PEAK | 2 Night min.
Spring Break: Mar 4 – Apr 1
Summer: Jun 11 – Aug 1
Leaf Season: Oct 1 – Nov 21
Labor Day, Memorial Day, Mother's Day,
Easter, Valentine's Day, MLK, New Year's
OFF SEASON | 2 Night min.
All other dates

* Minimum night stays may vary by cabin and is noted on their webpage.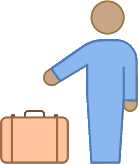 ARR | DEP INFO
CHECK IN
No Earlier Than 3 PM (Eastern)
CHECK OUT
No Later Than 10 AM (Eastern)

* Arrival Info with Directions is emailed 7 days before arriving if Rental Agreement was signed.