Sleeping Arrangement
Main FL Bedroom (Left)
1 Queen
Main FL Bedroom (Right)
1 Queen
Description
About The Cabin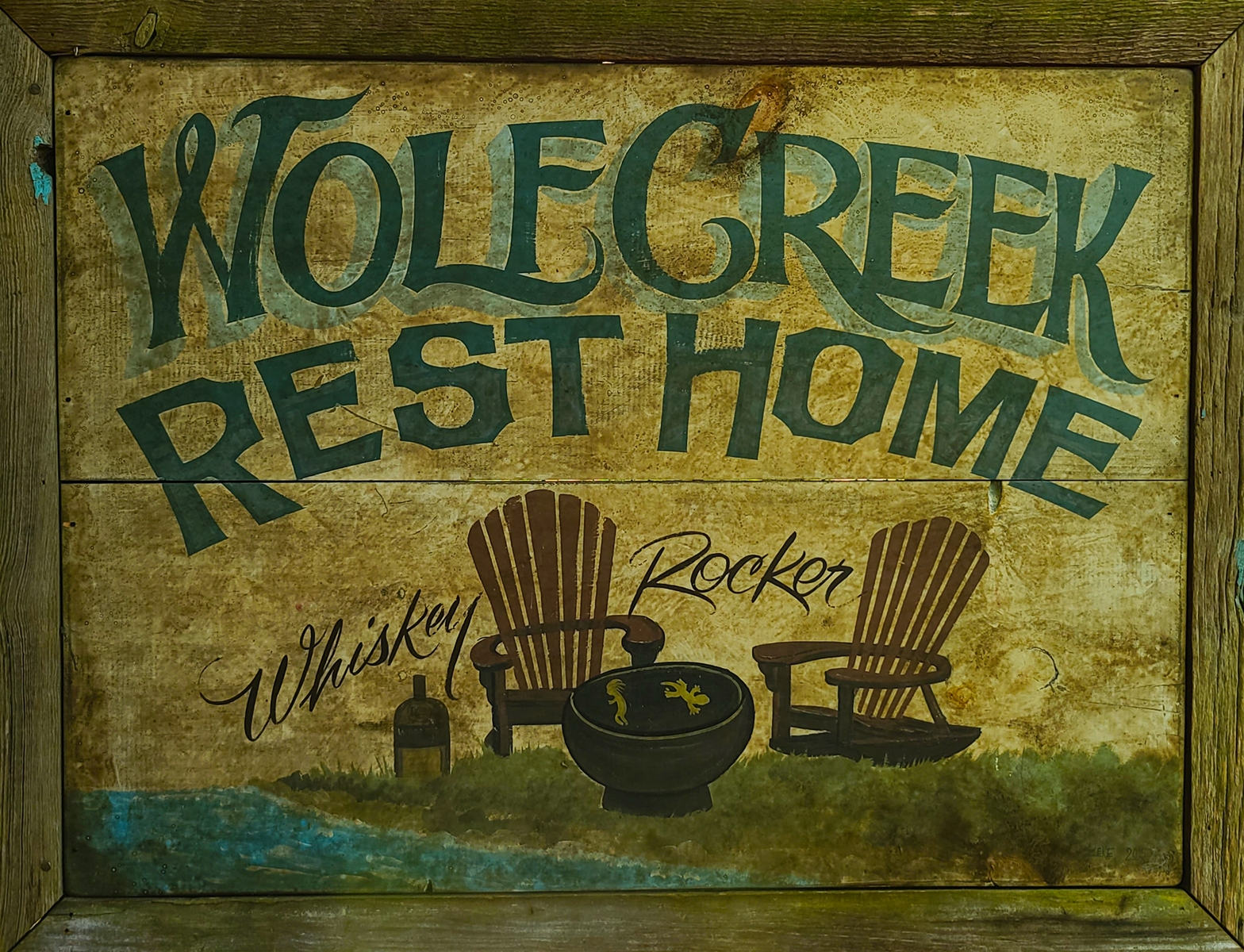 It sounds like rain at first. But it's the creek's rushing waters that instantly fills you with electrifying energy the moment you arrive. Kids and dogs alike may eagerly leap from the car to begin exploring the backyard bonanza. This quintessential Blue Ridge mountain cabin, sculpted by multi-million dollar quarry boulders lining the creek and outdoor kitchen, is simply magnetic. Witty signage scattered about like easter eggs gives this cabin its rustic charisma and cheeky charm. Indulge in a blissful afternoon nap or an overnight slumber on a plush, floating queen bed in the screened, creekside sleeping porch, just feet from lullful waters. And, witnessed firsthand by this writer, the quiet early mornings bring beavers and deer grazing in the open lush green yards that surround the property. Wolf Creek Haven, with all its indoor and outdoor splendor, will indeed be your "Rest Home" in the mountains. Listen to your moment of zen ...
Easy Access
No Steps Entry.
Conveniently arrive at a ground level, no steps entrance so you can easily carry in supplies; and a welcomed relief after an eventful day in the mountains.
Main Level Living Area
Creekside Comfort.
Walk in the front entrance and let the WOW wash over you. Hardwood floors chase beautiful wall to ceiling wood paneling. The western-style eclectic decor feels Colorado cozy.
Kitchen & Dining.
Prepare meals in the fully stocked kitchen that will please any host-going enthusiast. The big dining room windows bring natural light and views to the outdoor creekside kitchen. Dining table seats six.
Lazy Lounging.
Big living room windows overlook the main deck and hot tub. Plush seating for 5-6 surrounds a rustic mountain riverstone, natural wood burning fireplace and big flatscreen TV. Sync your phone to the home Sonos surround system and enjoy your favorite playlist inside and outside.
Main Level Queen Bedrooms
There are two convenient, all-wood paneled, comfy Queen bedrooms with breezy overhead ceiling fans. One features private access to the deck and a window to the side yard while the other has windowed views to the front porch yard.
Wraparound Deck
Creek & Lush Yard Views.
Step out onto the inviting deck that overlooks the outdoor party kitchen, an enormous backyard surrounded by pure oxygen-giving trees, and the pristine rushing creek.
Spa.
Dissolve away in a steaming, 5-person, deluxe hot tub overlooking the scenic creek. This soothing soaker was drained, sanitized, filled with clean mountain spring water, and pH-balanced before your arrival.
Wraparound Porch & Deck.
The giant wraparound deck offers plenty of seating featuring long front and side yard views to watch kids and dogs having the time of their life.
Gas & Charcoal Grills.
Your grill master will have their choice cooking on the sizable gas grill or two charcoal grills. No matter where you sit on this spacious deck and porch, you'll take in picturesque scenery and breathe cool crisp mountain air.
Loft King Suite
This upstairs, newly carpeted, king suite exudes rejuvenating comfort.
Ensuite Bathroom.
The full bath has dual vanity sinks and a large garden tub.
Vaulted Ceilings & Private Deck.
Wake to wood paneled vaulted ceilings and lots of natural lighting. Walkout on the private deck and enjoy the tranquil creek view and all its soothing sights, smells, and sounds that mountain living offers.
Outdoor Party Kitchen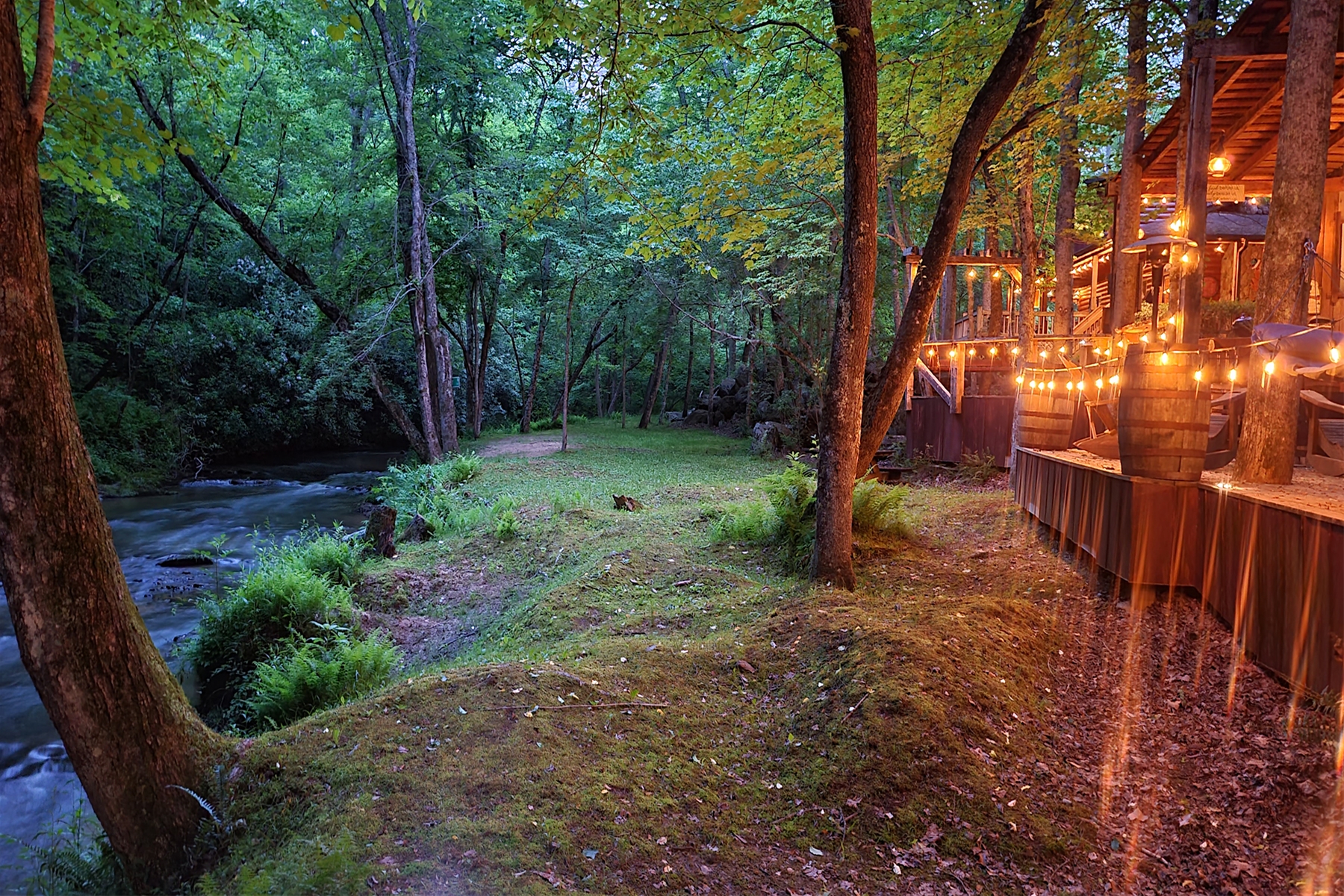 Step down to the outdoor kitchen and let the party begin with all its offerings.
Kitchen Accouterments.
A pizza oven, another charcoal grill, a smoker, a mini-fridge, a picnic bench, an ice box, lovers swing, hammock, mesmerizing antique railroad light, Sonos surround sound, and fire pit will all be a supporting cast to your spirit-filled "play" that will be a hit with your audience night after night.
Whirling Creek Waters.
And the main star of this outdoor show are the whirling waters of the burbling creek.
Trippy Times.
By day this kitchen will be a favorite lunch time hangout. By night, this fun infused place lights up like a Christmas tree to set a euphoric mood. You and guests will surely gravitate to this relaxing, party patio that accommodates lots of seating.
Creekside Sleeping Porch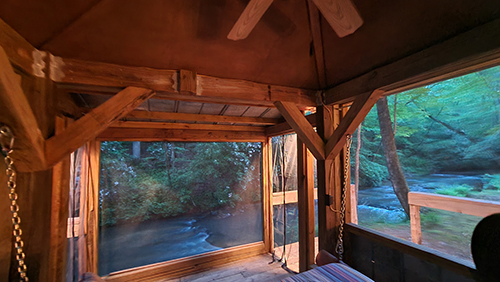 Must we say more? Your party will likely wrangle over who gets to sleep overnight on the plush, floating queen bed, in this stupendous, screened-in porch just feet from the water's edge. Drift off into a deep sleep
listening to soul-soothing sounds of gentle moving waters
... you'll dream ... like a poet.
Amenities
Wolf Creek Haven is just 5 Minutes (2.6 Miles) from McCaysville/Copperhill Sights, Landmark Tours, Concerts, Shows, Shopping, Boat Tours, Water Sports, Nature and Parks. And 12 miles from historic downtown Blue Ridge and a scenic train ride touring picturesque landscapes. From there, you're onto apple orchards, wineries, crystal clear lakes, hiking, zip-lining, and river water adventures like kayaking, tubing, fishing, and more.
Highlights
Magnificent Creekside Views
Grazing Deer in the Big Yard an Almost Daily Occurrence
Ground Level, No Steps Entry
2 Stunning Riverstone Wood Fireplaces (Living Room & Outdoor Kitchen)
Property-Wide Sound Sytem
5-Person Deluxe Hot Tub
Peaceful and Private
Outdoor Hammock Overlooking Rushing Creek
Creekside Sleeping Porch on Water's Edge
Fully Stocked Kitchen
Lighted Outdoor Kitchen w/Dining Options
Kitchen Deck Fire Pit Area
2 Main Level Queen Bedrooms
Loft Level King Suite w/Private Deck Overlooking Rushing Creek
Driveway Accommodates up to 4 Vehicles
Sleeps up to 6 People
FREE Wireless Internet (9.29 Mbps DWN | 5.72 Mbps UP)
Separate Laundry Closet w/Washer & Dryer Units
Minimum 2-Night Stay Across Any Season

DOGS ALLOWED UP TO 2.

NO SMOKING

(Inside)

Must be 25 years of age or older to rent this cabin; Driver's License pic required.
Cabin priced for up to 4 Adults. $20/nightly for each additional Adult
Video camera trained on driveway
Trailers Allowed
Creek Fishing Allowed, Catch & Release Preferred
Just 5 Minutes (2.6 Miles) from McCaysville/Copperhill Sights & Landmark Tours, Concerts & Shows, Shopping, Boat Tours & Water Sports, Nature & Parks
Main Level
Fully Stocked Kitchen Complete w/Microwave, Refrigerator, Electric Stove, Spacious Countertops, Custom Cabinetry, and even an Air Fryer
2 Coffee Makers (Mr. Coffee Cafe Barista & DeLonghi Caffe Elite)
Dining Table Comfortably Seats 6
Spacious Club-Style Seating for 5 w/ Large, Flatscreen TV
Mountain River Stone, Wood Burning Fireplace
Property-Wide Sonos Sound System
Main Level Deck
Wraparound Deck w/Plenty of Seating
5-Person Deluxe Hot Tub Overlooking Scenic Creek Views; Spa is Always Drained, Sanitized, Filled with Mountain Spring Water, and pH-Balanced before Every Arrival.
Gas Grill (supplied single propane tank)
Shading Trees
Quarry Boulder Rocks
Deck Overlooks Rushing Creek, Outdoor Kitchen, Open Yards, & Creekside Sleeping Porch
Loft Level
Open King Suite w/Vaulted Ceilings
Private Balcony Access Overlooking Backyard & Creek Scenery
Full Ensuite Bathroom Dual Vanity Sinks, & Garden Tub
Outdoor Party Kitchen
Pizza Oven
Charcoal Grill
Flat Screen TV
Smoker
Mini-Fridge
Ice Maker
Countertop Space
Ice Box
Lovers Swing
Whiskey Barrel
Picnic Bench Seating
Antique Railroad Light
Fire Pit w/ 4 Adirondack Chairs & Bench Seating
Mountain River Stone, Wood Burning Fireplace
Creekside Sleeping Porch
Screened-In Porch
Comfy, Floating Queen Bed Just Feet from Water's Edge
Cabin Reviews
This cabin is our latest addition to the Above The Rest luxury line. Consequently, because it is currently an undiscover gem on our program, there are no reviews at this time. We expect as more people discover Wolf Creek Lodge and it's alluring splendor of amenities, reviews will begin pouring in
Video
Map
Calendar
Jun - 2023
S
M
T
W
T
F
S

1

2

3

4

5

6

7

8

9

10

11

12

13

14

15

16

17

18

19

20

21

22

23

24

25

26

27

28

29

30
Jul - 2023
S
M
T
W
T
F
S

1

2

3

4

5

6

7

8

9

10

11

12

13

14

15

16

17

18

19

20

21

22

23

24

25

26

27

28

29

30

31
Aug - 2023
S
M
T
W
T
F
S

1

2

3

4

5

6

7

8

9

10

11

12

13

14

15

16

17

18

19

20

21

22

23

24

25

26

27

28

29

30

31
Sep - 2023
S
M
T
W
T
F
S

1

2

3

4

5

6

7

8

9

10

11

12

13

14

15

16

17

18

19

20

21

22

23

24

25

26

27

28

29

30
Oct - 2023
S
M
T
W
T
F
S

1

2

3

4

5

6

7

8

9

10

11

12

13

14

15

16

17

18

19

20

21

22

23

24

25

26

27

28

29

30

31
Nov - 2023
S
M
T
W
T
F
S

1

2

3

4

5

6

7

8

9

10

11

12

13

14

15

16

17

18

19

20

21

22

23

24

25

26

27

28

29

30
Dec - 2023
S
M
T
W
T
F
S

1

2

3

4

5

6

7

8

9

10

11

12

13

14

15

16

17

18

19

20

21

22

23

24

25

26

27

28

29

30

31
Jan - 2024
S
M
T
W
T
F
S

1

2

3

4

5

6

7

8

9

10

11

12

13

14

15

16

17

18

19

20

21

22

23

24

25

26

27

28

29

30

31
Feb - 2024
S
M
T
W
T
F
S

1

2

3

4

5

6

7

8

9

10

11

12

13

14

15

16

17

18

19

20

21

22

23

24

25

26

27

28

29
Mar - 2024
S
M
T
W
T
F
S

1

2

3

4

5

6

7

8

9

10

11

12

13

14

15

16

17

18

19

20

21

22

23

24

25

26

27

28

29

30

31
Apr - 2024
S
M
T
W
T
F
S

1

2

3

4

5

6

7

8

9

10

11

12

13

14

15

16

17

18

19

20

21

22

23

24

25

26

27

28

29

30
May - 2024
S
M
T
W
T
F
S

1

2

3

4

5

6

7

8

9

10

11

12

13

14

15

16

17

18

19

20

21

22

23

24

25

26

27

28

29

30

31
Reviews
Similar Properties